What's new?
IN-APP Paiements:
You don't need to purchase a second app to remove the ads from Life Reminders. You now just need a single application.
The "RETRIEVE PREVIOUS PURCHASE" button is to get back purchases made from within the app. If you purchased the donate version before December 2020 you must use the previous donate version
For people that had purchased before December
From your android device:
On your Android phone or tablet, open Google Play Store .
Tap Menu My apps & games Library.
Tap Life Reminders Donate.
Tap Install or Enable.
From your computer:
You can reinstall
Life Reminders
on your Android device from your computer.
On your computer, open https://play.google.com/.
Click Apps and then My apps. Click the app you want to install or turn on.
Click Install, Installed, or Enable. You may need to sign in to your Google Account.
Choose your device and click Install.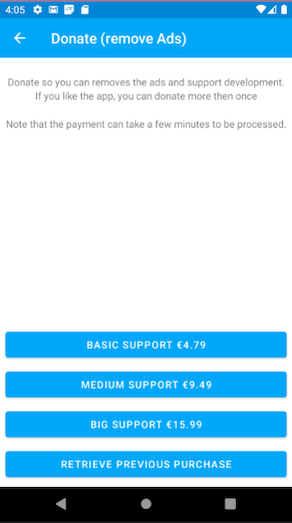 Refreshed UI


a bit of cleaning up in the UI to make it look clearer